We have all heard about the benefits of vitamin C, additionally known as ascorbic acid, when it comes to warding off colds and flu's but vitamin C serum is also the key to the production of collagen, a protein that aids in the growth of cells and blood vessels which gives skin its firmness and strength.  vitamin C serum also helps your skin repair itself, providing potent antioxidant protection from free radical damage that causes premature aging.
About Zo Medical C-Bright 10% Vitamin C Serum
Enter Zo Medical C-Bright 10% Vitamin C Serum, this formula provides a high dose of vitamin C that is stabilized to brighten, plump and re-texturize the skin.  C-Bright Vitamin C Serum uses the power of pure vitamin C to rapidly exfoliate the skin's surface simultaneously going beneath the skin to prevent new melamin pigment (brown spots) from forming.
Benefits of Zo Medical C-Bright 10% Vitamin C Serum
Environmental factors such as the sun, pollution and oxygen are compromising your skin's health every day.  Taking vitamin C orally can enhance the effectiveness of sunscreens applied to your skin for protection from the sun's harmful UV rays. It does this by decreasing cell damage and helping the healing process of bodily wounds and corrupted skin.
Using Zo Medical C-Bright 10% Vitamin C Serum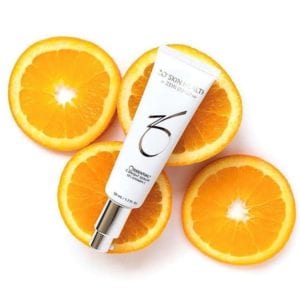 Vitamin C eaten in the form of citrus fruits, green leafy vegetables, strawberries, papaya, broccoli as well as topical daily application with Zo Obagi C Bright Vitamin C Serum help to defend against these harmful triggers that cause inflammation, fine lines and brown spots.  An overall brighter skin tone and reduction in lines and wrinkles occurs over time with the use of topical vitamin C serum products at high medical concentrations.
If you are interested in finding out more about the benefits of vitamin C serums call SkinRhümMD today to schedule your complimentary consultation at 204-894-7486.