Sclerotherapy – Vein Treatments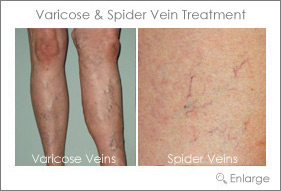 SkinRhümMD is pleased to offer sclerotherapy vein treatments for the reduction and elimination of unwanted, painful and unsightly varicose veins and spider veins. Performed by specialist, Dr. Amanda Patenaude, who is certified in advanced Phlebectomies and Sclerosing techniques.
Sclerotherapy is performed in-office and involves the injection of a solution into the vein of concern. Sclerotherapy treatments are non-invasive and usually take between 15-30 minutes depending on the patient. Multiple sclerotherapy treatments may be required depending on the amount and severity of the individual patient's spider and varicose veins at 2 month intervals. Results with sclerotherapy are extremely reliable and predictable, with spider veins responding in 3-6 weeks and varicose veins taking slightly longer.
Medical Grade compression stockings, which SkinRhümMD also offers, are to be worn for a minimum of 3 weeks post sclerotherapy vein treatment to achieve the best results. In many cases these compression stockings can be covered though various insurance providers. Downtime post sclerotherapy vein treatments are minimal. Patients are able to return to normal daily activities immediately and more strenuous activity and work outs within a few weeks.
It is estimated that 20-25 million North Americans have varicose veins. A recent study showed that 33% of women and 17% of men have venous problems. Venous circulation problems can progressively worsen over time and can affect your health and quality of life. Wearing graduated medical grade compression stockings or socks and having sclerotherapy vein treatments is vital for the prevention and treatment of varicose veins which can lead to other circulatory problems.
Because varicose veins can sometimes be an indication of other underlying issues, Dr. Patenaude requires an in-office consultation prior to scheduling any sclerotherapy vein treatment. Have your family doctor refer you to Dr. Patenaude to get the best medical advice and varicose vein treatments options or contact us today for more information on sclerotherapy 204-894-7486.