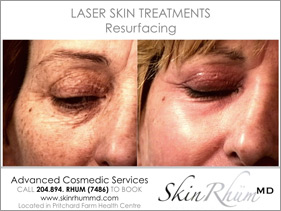 SkinRhümMD carries one of the most advanced laser technologies for non-invasive laser resurfacing. Laser resurfacing treatments remove damaged outer layers of the skin and stimulate collagen production to tighten the skin and improve overall skin textures reducing wrinkles, fine lines, acne scarring, large pores as well as brown pigmentation and sun damage, creating a more uniform fresher skin appearance.
Fractional laser resurfacing with the Erbium laser treats only "fractions" of the skin. The laser emits pulses which ablate the skin in small points only, which are barely visible to the naked eye. Following laser resurfacing, recovery takes roughly 2-4 days while the treated skin heals and a new layer of healthy skin appears. Discomfort is minimal and soothing topical creams are given to reduce the "sunburn" feeling post laser resurfacing treatment.
Laser resurfacing serves to trigger skin renewal and collagen formation. Wrinkles and scars (including acne scars) are effectively reduced. Pore size is decreased and the skin's pigmentation becomes more smooth and even, improving the appearance of the skin and skin texture. The signs of the laser resurfacing treatment are practically invisible within 2-4 days. Just one session can lead to remarkable long lasting results for many skin conditions, including wrinkles.
Due to the very limited thermal effects of the Erbium laser, the laser resurfacing procedure is less painful and requires less downtime and less chance of side effects than with CO2 lasers. The treatment is safe for even the most delicate areas, such as around the eyes, neck, décolleté and hands where wrinkles can be prominent. Multiple laser resurfacing treatments can reverse years of aging, wrinkles and sun damage to the skin creating a smoother, tighter, younger, healthier-looking skin.