Bela MD+ Medical Microdermabrasion
Bela MD+ Microdermabrasion is a non-invasive skin resurfacing technology providing simultaneous exfoliation and delivery of targeted solutions for the face. This medical microdermabrasion treatment deeply cleans the skin of impurities, oils and bacteria, leaving the skin texture smooth, pores reduced and the skin clean, radiant and refreshed.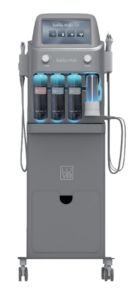 Bela MD+ Microdermabrasion is unlike traditional microdermabrasion technologies which rely on crystals or other particles to exfoliate and buff the skin. The Bela MD+ Medical Microdermabrasion diamond tip head evenly abrades the skin at a depth of 30 microns, exfoliating damaged skin cells while delivering targeted topical solutions deep into the skin where topically applied creams cannot reach, providing additional benefits over traditional microdermabrasion. Immediate exposure of the abraded skin to the topical solutions optimizes the delivery of exclusive high performing serums to address a variety of skin conditions including acne, aging, dryness, pigmentation and dull skin.
For optimal results, SkinRhümMD recommends a series of 5 treatments spaced out every 3-4 weeks but many patients are extremely satisfied with the improvement in their skin complexion and textures after just one Bela MD+ Medical Microdermabrasion treatment. There is no downtime after medical microdermabrasion treatments and nearly every skin type can benefit from the results of a Bela MD+ Microdermabrasion treatment. SkinRhümMD sees patients of all ages and with numerous different skin conditions for medical microdermabrasion treatments.