It's not uncommon for people to be unaware of the educational requirements of cosmetic medical professionals to be able to preform treatments such as Botox, Dysport and Dermal Fillers. With the increasing trend in salons, spas and other medical business's now offering cosmetic injections it is in the consumer/patients' best interest to be informed of their cosmetic injectors credentials prior to selecting a clinic for treatment.
It is best your injector be a Medical Doctor. No weekend courses can replace a full-fledged Specialty Fellowship with years of training in advanced facial anatomy and cosmetic injections. You should always ask your provider how experienced they are in the Cosmetic Medicine field. Where did they do their training? For how many years? Do they continue to be educated on new treatments, technologies and advanced techniques?
Before having any cosmetic procedure, your treatment provider should inform you with an in-depth consultation regarding the treatment you are seeking and review all options available to you. You should be asked to provide a brief medical history outlining any previous treatments you have had, any allergies or medications you may be taking that potentially may contraindicate treatment. It is important to remember that Cosmetic Injections are medical treatments.
There is always the possibility of an adverse reaction or side effect occurring. In most cases it is common things such as swelling or bruising. However, extremely rare complications can occur which may require immediate medical treatment. Is your treatment facility equipped to deal with a complication? You want to make sure that the place you select is medically equipped and educated on how to handle an adverse reaction. You should also consider the hygiene of the facility your treatment is being administered. Does the place appear clean enough? Does the injector follow standard sterilization procedures? Are needles/cannulas disposed of correctly? This may not be the case at some salons or spas.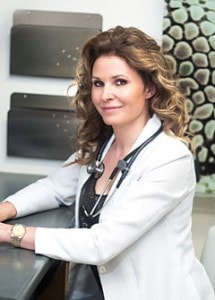 Dr. Amanda Patenaude is Board Certified as an Internal Medicine Specialist with a fellowship in Autoimmune & Autoimmune Skin Diseases. She is expertly trained with over 14 years experience in cosmetic procedures and surgeries. She is an associate physician of the National Society of Cosmetic Physicians and holds certification in neuromodular treatments (Dysport/Botox) and facial fillers (Restylane, Emervel & Juvederm). Call us today to schedule your complimentary cosmetic consultation with Dr. Amanda Patenaude 204-894-7486.