Medical Grade Cosmetic Products
SkinRhümMD offers a wide range of medical grade cosmetic products addressing numerous chronic conditions and concerns. Whether you're looking to grow longer eyelashes, looking to improve the overall health of your skin, (including issues such as texture, pigmentation or complexion), have tired achy legs or unwanted varicose/spider veins, SkinRhümMD's skin care experts can create a personalized at home regimen of medical grade cosmetic products just for you. Contact us today to schedule your complimentary consultation 204-894-7486.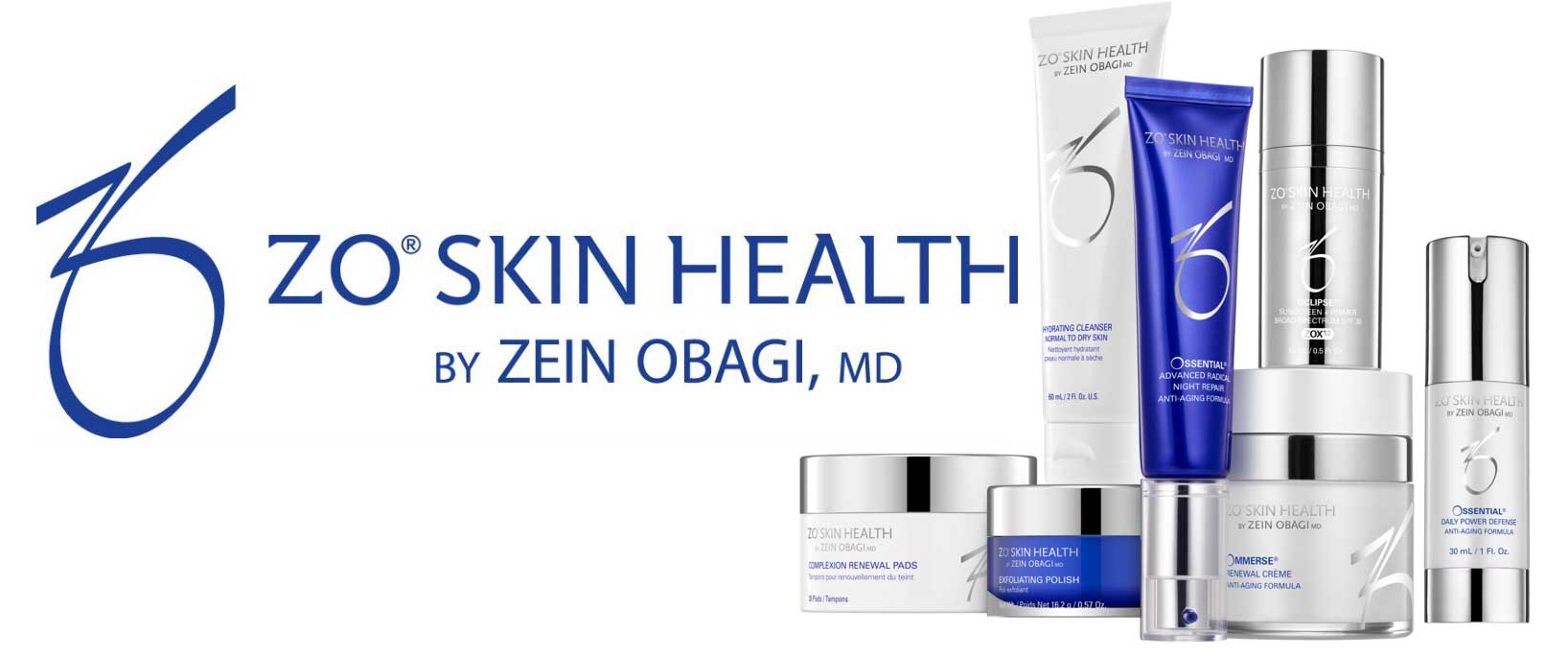 Zo Skin Health & Zo Medical Retinol Cosmetic Products
ZO Skin Health develops and delivers innovative skincare solutions that optimize skin health based on the latest advances in skin therapy technologies, unique delivery systems, bioengineered complexes and exclusive formulations. By providing comprehensive skincare programs for physicians and their patients, ZO Skin Health bridges the gap between therapeutic treatments and daily care, allowing patients to experience continuously healthy skin regardless of their age, ethnicity or unique skin condition.
Compared to your drugstore brand
Why ZO Retinol?
ZO® Retinol skin care uses a 1.0% concentration of retinol. For retinol to be topically effective, it must reach a concentration of at least 0.6% in the skin. Currently the strongest over the counter retinol products available are at a concentration of 0.21%. By "layering" retinol, ZO® Retinol Skin Health program delivers the optimal amount of retinol to the skin creating a clearer, smoother, tighter, firmer skin texture after only a few weeks of daily use.
Dr. Patenaude has completed extensive training with Dr. Zein Obagi, the creator of ZO® Retinol Skin Health to be able to teach you how to perform customized at home ZO® Retinol chemical peels which can save you thousands of dollars on future in-office treatments. SkinRhümMD will work with you to personalize your ZO® Retinol Skin Health regimen to specifically treat and improve your skin condition. We will monitor your progress monthly and work with you closely to help you to get your skin healthy and into the best overall condition possible.
ZO®'s retinol products are among the world's elite medical grade quality skin care and are only available through a physician's office. They are often used in combination with our in-office laser and medical microdermabrasion treatments along with our at home ZO® Retinol chemical peels. Using a unique formulation of peptides, retinols and enzymes, ZO® Retinol skin care provides the same balance of performance and luxury SkinRhümMD is committed to proving our patients with.
At Home Chemical Peel
ZO Skin Health Radical Night Repair
ZO Skin Health Radical Night Repair is formulated with a 1% retinol concentration that targets UV-damaged, aged skin more effectively than any other anti-aging treatment.
An anhydrous (water-free) formulation ensures stability for maximum anti-aging benefits
Helps improve skin's brightness, reduces brown spots and provides a more even tone
Provides antioxidant protection to neutralize free radical damage
Combats irritation to help calm and soothe the skin
Formulated by the renowned Dr. Zein Obagi, ZO Retinol Skin Health and ZO® Medical are a high grade medical line of skin care designed with one thing in mind- RESULTS. Whether you are looking to treat chronic conditions, such as Acne, Melasma, and Rosacea or you are interested in improving and preventing fine lines, deep wrinkles, sun spots and age spots or just wanting to improve the overall health of your skin, SkinRhümMD & ZO® have a personalized retinol program tailored to your needs.
A ZO Skin Health Must
Daily Power Defense
ZO Skin Health Daily Power Defense is formulated with 0.5% retinol. A lightweight lotion designed to help protect and repair all skin types. A must for everyone.
Repairs DNA
Restores the skin's barrier promoting skin hydration and skin health
Tightens and firms skin
Stimulates collagen
Protects against future damage
An anti-aging breakthrough
Firming Serum
An anti-aging breakthrough in skin structure + shape. This mild, lightweight and tolerable formulation is indicated for all skin types and sensitive skin areas to reinforce skin health and hydrate to support the visible improvement in skin elasticity and firmness.
Visibly tightens and firms the skin
Improves the appearance of sagging and skin laxity
Helps define facial contours
Supports healthy skin structure and the skin's natural renewal process
Defends against free radical damage

The power of triple-spectrum protection
ZO Skin Health Medical Grade Sunscreen
The ZO Skin Health sun protection products offer scientifically superior sunscreen with the broadest, most comprehensive rage of sun protection available. Our advanced triple-spectrum protection shields against UVA/UVB, high-energy visible (HEV) light and IR-A (infrared) rays.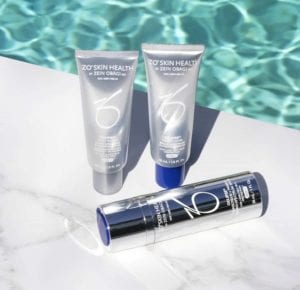 High-Energy Visible (HEV) Light Protection
HEV Light from Smart Phones May be Ruining Your Complexion. Exposure to HEV light impairs the skin's natural barrier function. It doesn't cause burning or redness. Instead, it goes deeper than the sun's ultraviolet (UV) light, striking our collagen, elastin and hyaluronic acid supplies. These are the very substances that give our skin the elastic and supple properties most associated with youth. HEV also zeros in on the pigment that gives skin, hair, and eyes their color (melanin), which likely plays a role in pigment issues that can occur with over exposure. All of our ZO Skin Health sunscreens protect your skin from these harmful rays.
ZO Skin Health SPF solutions:
Non-greasy & quick drying
Broad-spectrum protection against UVA, UVB, IR-A rays, shields skin from the aging effects of high-energy visible (HEV) light
Each batch medically tested for SPF accuracy
GST tax charged only (5%)
Covered by most extra health spending accounts
Skin Health Sunscreen and Powder SPF40 (light, medium and dark)
Sunscreen + Powder SPF 40 is powered by Triple-Spectrum Protection® and exclusive ZO® antioxidant technology to deliver superior skin defense with a hint of advanced color pigments.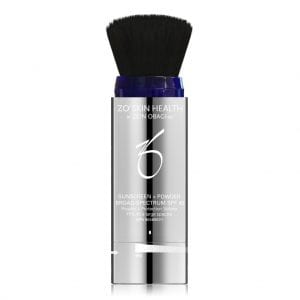 Daily Sheer  SPF 50 blends seamlessly into the skin for a sheer matte finish, packed with added hydration to maintain your skin's natural moisture balance. Non-greasy, quick drying sunscreen offering broad-spectrum protection against UVA, UVB rays. Natural melanin shields skin from aging effects of high-energy visible (HEV) light. Water and perspiration resistant. Engineered with our exclusive 12-hour, time-release complex, and shields the skin from harmful infrared (IR-A) rays.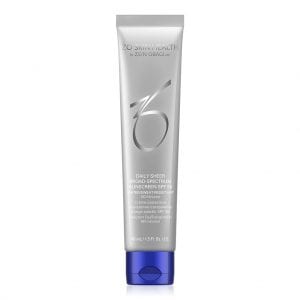 Smart Tone SPF 50 is a highly advanced, ultra-light weight formulation. It features customizable colour beads designed to blend into all skin tones. It provides a light and radiant golden glow. It contains anti-redness inhibitors and offers DNA repair. Non-greasy, quick drying sunscreen offering broad-spectrum protection against UVA, UVB, IR-A rays, and HEV light. Lastly, Smart Tone is enriched with conditioners to encourage the skin to look youthful, soft and smooth.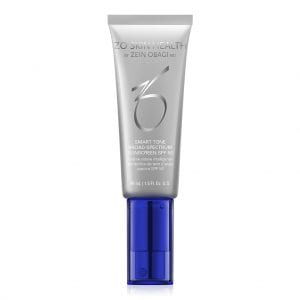 Broad Spectrum Sunscreen SPF 50
Broad Spectrum Sunscreen is a lightweight, non-irritating mineral sunscreen that can be used on the face and body. Formulated for the most sensitive skin types and post-procedure skin, Broad Spectrum soothes the skin and helps to minimize inflammation. Non-greasy, quick drying sunscreen offering broad-spectrum protection against UVA, UVB, IR-A rays, and HEV light.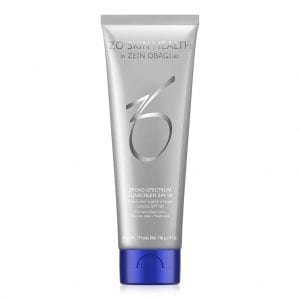 Sunscreen + Primer SPF 30
Sunscreen + Primer has a universal tint and silky matte finish that help reduce the appearance of skin imperfections, fine lines, and wrinkles. It can be used alone or worn under makeup for a more even, long-lasting application. Also provides additional support to restore lipids and enhances skin barrier function. Non-greasy, quick drying sunscreen offering broad-spectrum protection against UVA, UVB, IR-A rays, and HEV light.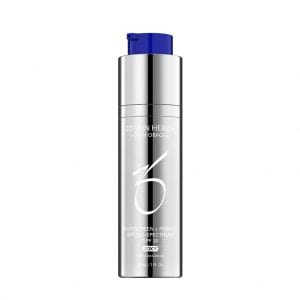 Colorescience health-forward ingredients and multi-purpose formulas offer the ultimate beauty line by fusing makeup and skincare. Colorescience is well known for their famous Sunforgettable® brush-on sunscreen SPF50 and Even Up® Clinical Pigment Perfector® SPF 50. The line is completed with Total Eye 3-in-1 Renewal Care, Natural Finish Pressed Foundations SPF 20, and some enhancement products such as bronzers and blushes.
The Colorescience difference
365-day skin health: Treat, correct, protect, and enhance built into every formulation for daily use
The highest levels of physical protection from UV rays and environmental stressors in the market
Proven ingredients and natural extracts used at therapeutic and dermatologist approved levels to nurture and improve skin health for years to come
Originally crafted for vulnerable skin, Colorescience health forward formulas have improved millions of lives by providing confidence and reassurance to woman of all ages, skin types, and concerns. Blendable and breathable, our line features custom-refined minerals and nutrient-rich ingredients. Everything your skin needs to age well, nothing it doesn't.
Even Up Clinical Pigment Perfector SPF 50
Brighten, correct and protect your skin with Colorescience Even Up Clinical Pigment Perfector. Its complex is clinically proven to diminish the appearance of discoloration and immediately blur stubborn brown spots, while delivering a chemical-free UV and environmental protection. Even Up combines the benefits of a highly effective skin-brightening formula, with a luxurious primer and a superior sun protector, for beauty that lasts.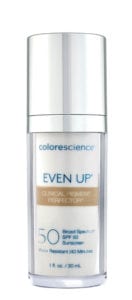 All Calm Clinical Redness Corrector SPF50
Correct and protect your skin with the Colorescience All Calm Clinical Redness Corrector SPF50, a 3-in-1 formula that helps to neutralize redness while soothing and protecting sensitive skin. The moisturizing colour corrector has a subtle green undertone to help counteract redness. Non-chemical mineral SPF for broad spectrum UVA/UVB protection. Calming and relieving signs of redness and sensitivity, the clinically proven formula contains a BioSolace complex for ongoing relief. A color corrector and sunscreen all in one, it will leave skin looking balanced and feeling comfortable.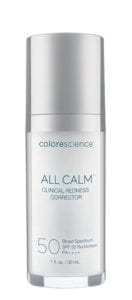 Total Eye 3-in-1 Renewal Care SPF 35
With powerful clinical ingredients, Total Eye 3-in-1 Renewal Care SPF 35 provides a rested, youthful appearance by visibly improving signs of skin aging. Improve the appearance of dark circles, puffiness, fine lines, and wrinkles while protecting the delicate eye area against photoaging with 100% SPF 35 mineral sunscreen.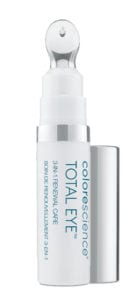 Scar Removal & Scar Prevention
Scars are the end point of the normal healing process after skin tissue has been broken. Injury to any tissue, whether it is by accident, surgery or disease initiates a complex series of responses to help clear damaged cells, protect viable tissues and rebuild the damaged area. The ideal end point of the wound healing process would be total regeneration, with the new skin tissue having the same structural, aesthetic, and functional attributes as the original uninjured skin. However, this is not always the case in wound healing.
Cytoderma Scar Prevention
First-line therapy for post-procedure care and scar management
CytoDerma is a topical, medical grade silicone gel that is transparent, odourless and fast-drying.  It helps maintain the skin's moisture balance while supporting the care of damaged skin surfaces.
The Updated International Clinical Recommendations on Scar Management advocates the use of silicone gel as first line therapy for the prevention and treatment of abnormal scars such as keloids and hypertrophic scars.
INTENDED USE
CytoDerma is used for the prevention and treatment of abnormal scarring such as those that may result from cosmetic and surgical procedures.
CytoDerma is suitable for all skin types, complexion and colour.
It is safe to use during pregnancy and while breastfeeding as well as on infants, children and people with sensitive skin.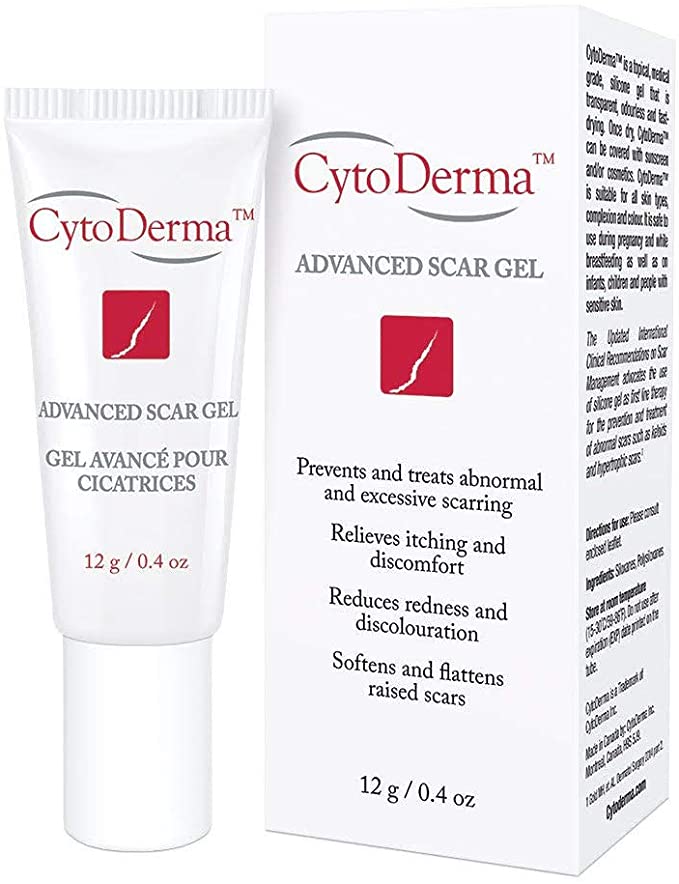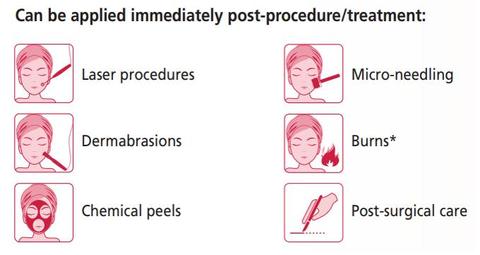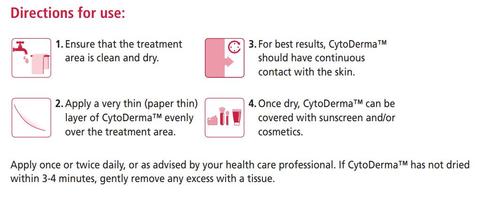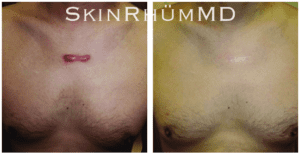 It is estimated that North Americans currently have about 840 million scars of which 169 million are raised, red or keloid, with approximately 62 million new scars developing each year. These scars are often considered trivial but in many cases can be aesthetically unpleasant and cause severe itching, tenderness, pain, anxiety and depression.
SkinRhümMD offers multiple different treatments depending on your scar type including; Medical grade retinol therapy, Dermapen treatments, laser resurfacing, as well as steroid injections.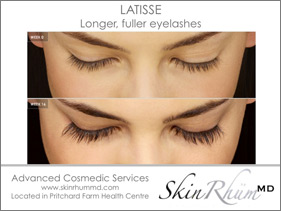 LATISSE® is the first prescription lash extension treatment approved by the FDA for the treatment of small, short or thin eyelashes. When applied regularly, LATISSE® can result in the growth of significantly longer; fuller, darker upper eyelid lashes. The mechanism of the product's active ingredient in LATISSE®, called bimatoprost, is not known precisely, but researchers believe the lash extension results are due to an increase of the percentage of lash development during the lash growth phase. About 90% of LATISSE® lash extension users report seeing a significant increase in the growth and fullness of their own eye lashes.
LATISSE® is a prescription product which you apply yourself at home, it is only available through a physician's office. Prior to applying the product, you should wash your face and remove any makeup or creams. Contacts should also be removed. The product is then applied with a thin, single-use brush to the top of the eye lid along the lash line, at least 15 minutes prior to bed to give ample time for the LATISSE® to dry. LATISSE® is meant to be applied to the lid, not the eye itself.
When will I begin to see results from LATISSE®?
LATISSE® works gradually with initial results appearing in 4 to 8 weeks, after continued daily use. Full lash extension effects become evident at 16 weeks after the initial application. LATISSE® must be applied every day during the initial 16 weeks to see complete and optimal lash growth and lash extension effects; however, after this period many patients begin a maintenance phase applying LATISSE® 3-4 times per week to maintain lash extension results.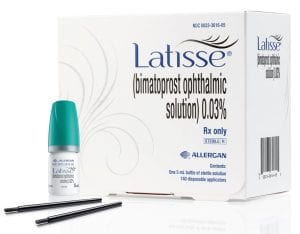 How long do results with LATISSE® last?
The lashes which grow as a result of the LATISSE® lash extension program will last for the natural duration period of the eyelash growth cycle, usually 1 to 2 months. However the effects of LATISSE® lash extensions will continue on indefinitely if the product is continued to be applied a minimum of 3-4 days per week after the initial 16 weeks.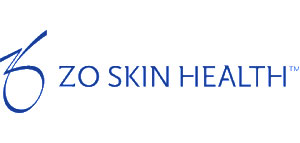 Pigment Control
Skin Brightening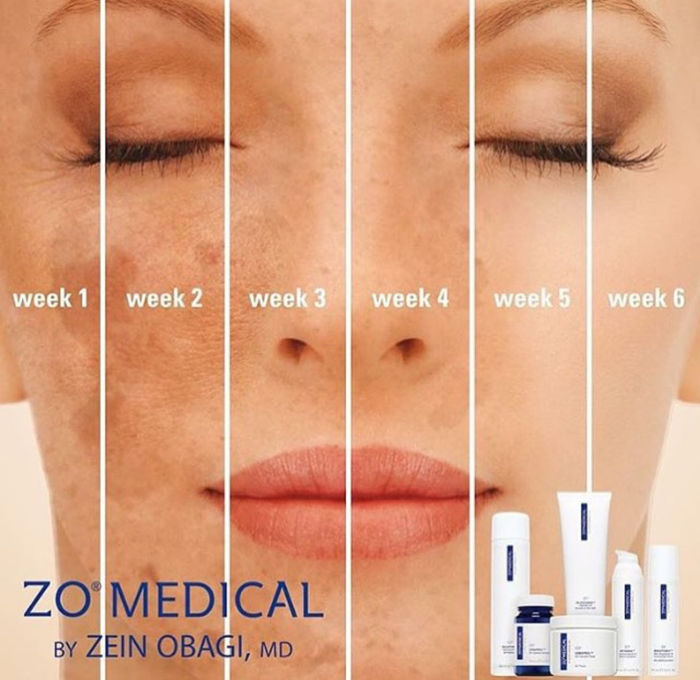 The ZO Obagi Skin Health Medical Pigment Control System is a multi-faceted system which dramatically improves the appearance of hyperpigmentation, Melasma, sun spots and age spots. Currently SkinRhümMD offers two different Skin Brightening regimens, one including 2% Hydroquinone products and one without, both systems varying from mild to more aggressive based on patients degree of pigmentation and tolerability.
PIGMENT CONTROL PROGRAM + HYDROQUINONE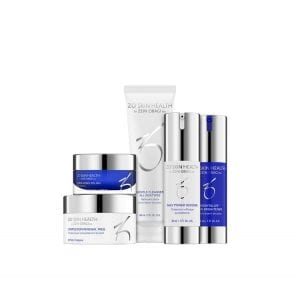 An all-encompassing system formulated to help treat hyperpigmentation, severe texture damage, sun damage and general skin health restoration.
BENEFITS
Treats moderate to severe hyperpigmentation, especially melasma
Treats severely dry, dull, rough and leathery textured skin to help restore a smooth, healthy glow
Great to use as pre/post procedure skin conditioning to help maintain results longer
Helps improve overall appearance and quality of skin
SKIN BRIGHTENING PROGRAM + TEXTURE KIT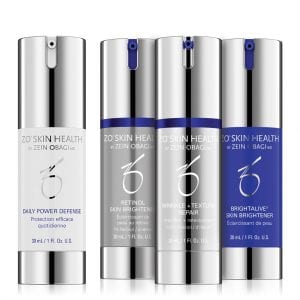 A multi-product, skin therapy system designed for the visible treatment of hyperpigmentation appearance without the use of hydroquinone.
BENEFITS
A great maintenance system once hydroquinone treatment is complete
Perfect for use when skin bleaching is not desired
Helps even skin tone
Ideal for use if skin texture and anti-aging benefits are part of the skin concerns
ZO Skin Health 10% Vitamin C Serum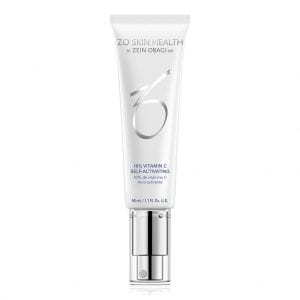 Provides a potent dose of vitamin C that brightens and redefines skin, promoting a more even skin tone and minimizing the appearance of fine lines and wrinkles.
Helps remove surface discoloration
Powerful antioxidants help defend against environmental triggers
Helps minimize the appearance of fine lines and wrinkles

Medical Grade
SIGVARIS COMPRESSION STOCKINGS
SkinRhümMD offers a vast assortment of Sigvaris medical grade compression stockings which are designed to fit your lifestyle, ensuring correct fit and accurate compression, resulting in optimal therapeutic benefits and greater wearing comfort. These compression stockings will help improve your circulation, reduce the aching and soreness in your legs, increase your energy and help to keep your legs healthy. Sigvaris medical compression stockings are best suited for those with chronic venous disorders, varicose veins, spider veins, edema/swelling in the feet, ankles and legs, patients whose job requires long hours standing or sitting as well as for post Sclerotherapy treatments with Dr. Patenaude.
Venous insufficiency is caused by a series of disorders in the vein, including when the valves of the veins fail to function properly. This interferes with venous return and causes blood to pool in the veins. Venous insufficiency can become more chronic and lead to spider veins, varicose veins, blood clots and changes in the skin, including leg ulcers.
Risk Factors for Venous Disorders:
Heredity
Age over 40
Pregnancy
Prolonged sitting or standing
Long distance travel
Sedentary lifestyle
Surgery or trauma
Symptoms of Venous Disorders:
Heavy, tired, aching legs
Spider Veins
Varicose Veins
Swollen ankles/feet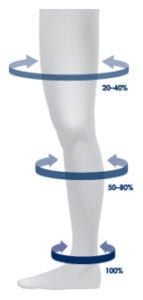 Wearing graduated compression stockings or compression socks daily will help with the management and will reduce the progression of venous disorders. How does it work; the contraction and relaxation of the calf muscles around the veins aid in moving blood towards the heart. The external graduated compression stockings act as a layer of muscle by gently squeezing the stretched vein walls together, allowing the valves to close. The cavity of the vein is reduced thereby restoring blood flow to a normal state and aiding overall circulation. To be most effective, the compression stockings or socks should be put on at the start of your day and removed before you go to bed.
compression stocking actionIt is estimated that 20-25 million North Americans have varicose veins. A recent study showed that 33% of women and 17% of men have venous problems. Venous circulation problems can progressively worsen over time and can affect your health and quality of life. Wearing graduated compression stockings or compression socks daily will help with the management and will reduce the progression of venous disorders.
Our staff has been certified to measure and custom fit patients for compression stockings. Sigvaris medical grade compression stockings are often covered by various insurance providers. Contact your insurance provider for more information on your compression stocking coverage.
ZO Skin Health
Stretch Mark Reduction
Severe and/or older stretch marks may need longer treatment with a more aggressive protocol including our ZO Skin Health Wrinkle and Texture Repair .5% retinol and Hydrating Crème. In some cases Dermapen or laser treatments can be effective
ZO Skin Health Wrinkle and Texture Repair is a potent blend of Retinol with plant stem cell antioxidants and proteins that stimulate the skin's natural rebuilding process to produce firmer skin, fewer lines and reduce stretch marks.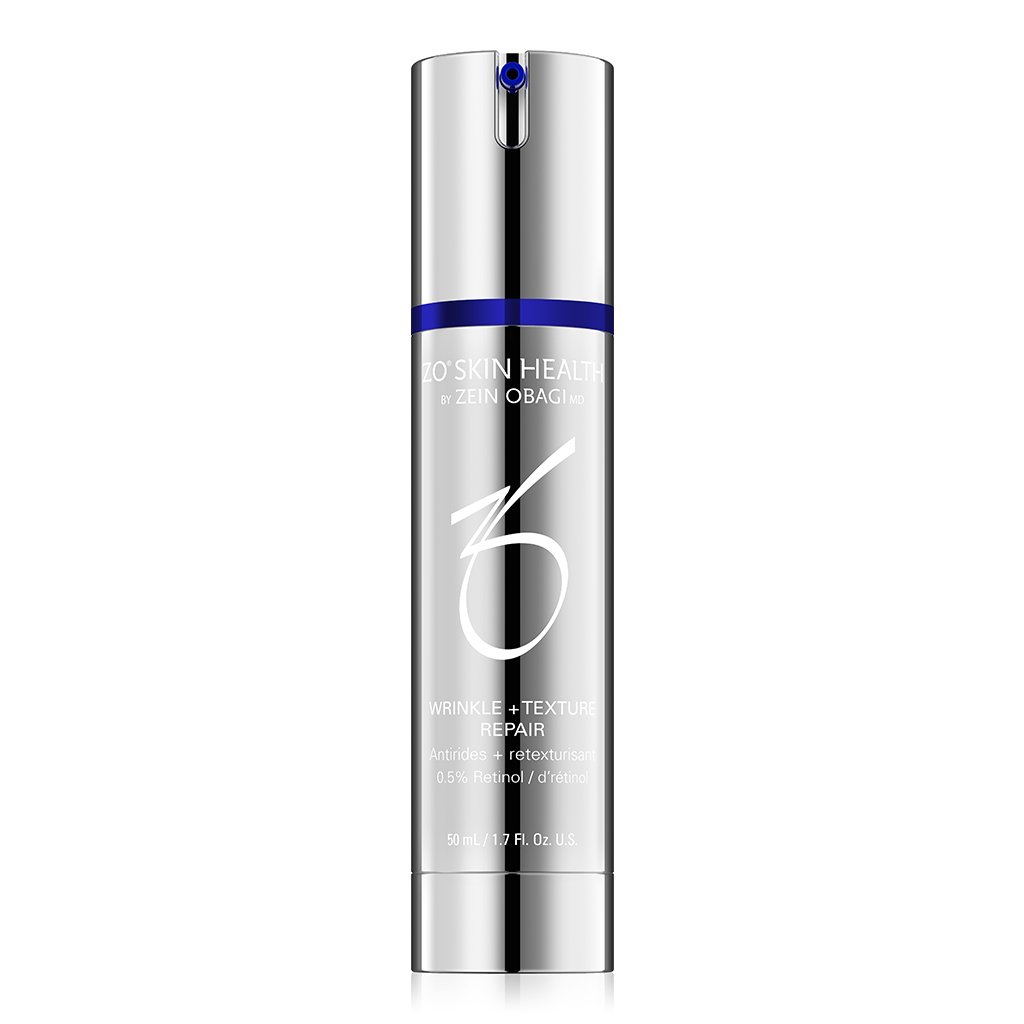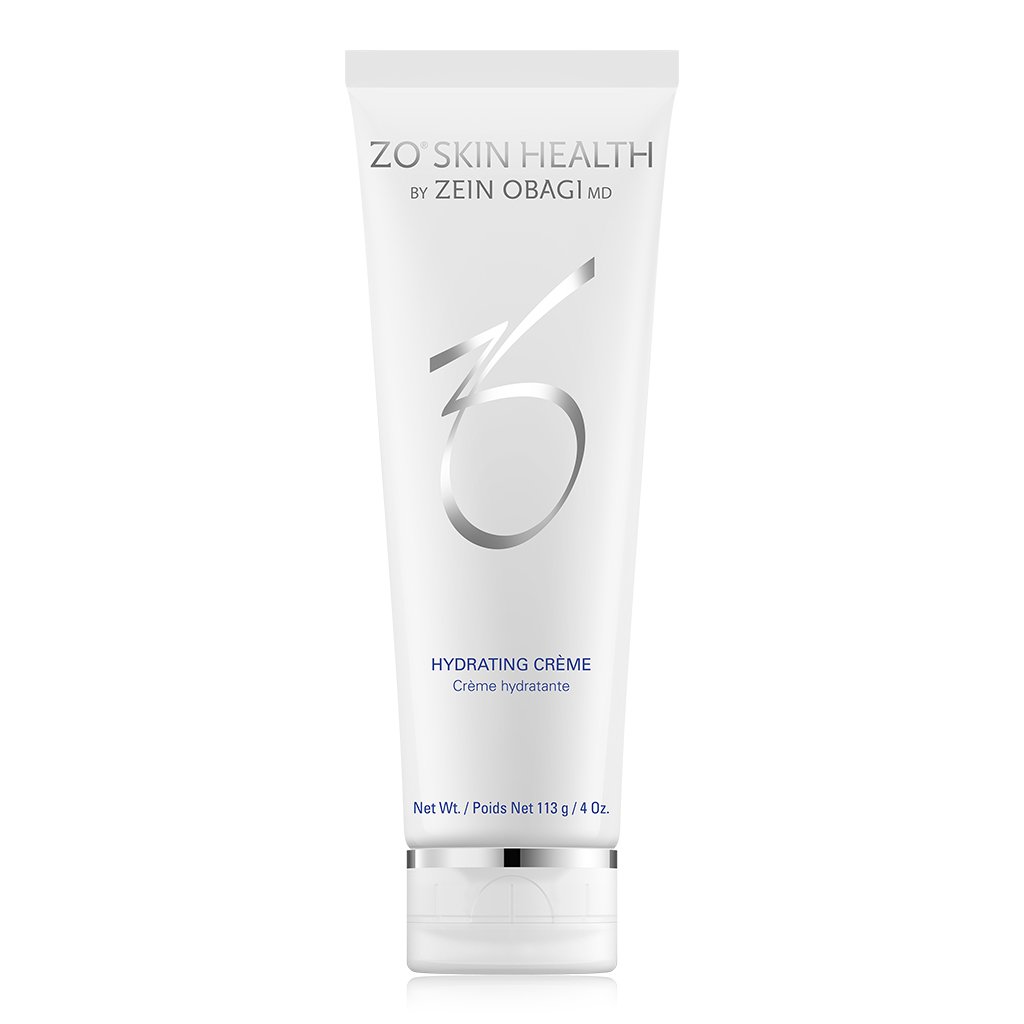 Book Your Free Consult Today!
Call Us at (204) 894-7486