Non-Invasive Fat Removal & Skin Tightening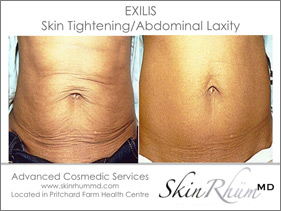 Exilis™ is the only device approved for non-invasive skin tightening and body fat removal. SkinRhümMD is proud to be among the select clinics in Western Canada to offer this break-through procedure for the face and body.
Reshape your silhouette and safely target fat deposits with Exilis™ fat removal. Whether you want to tighten up excess skin or remove stubborn pockets of fat, Exilis™ fat removal delivers focused energy at targeted depths for highly effective skin tightening and fat removal. Exilis™ fat removal uses a unique cooling system and constant temperature monitoring which allows the practitioner to heat deep tissues where fat is stored without over-heating the skin. As a result, the procedure delivers a comfortably warm sensation with minimal to no discomfort.
Exilis™ fat removal is Health Canada approved for use on the face and body. Numerous areas for skin tightening are available for treatment such as the face, neck, sagging jowls, eyes, and abdomen. Areas for non-invasive fat reduction and fat removal include the neck, tummy, buttocks, thighs, love handles, bra fat and back folds.
The Non-Invasive Tummy Tuck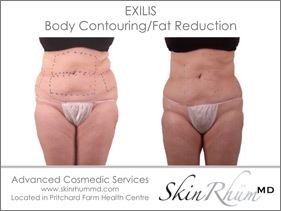 Exilis™ fat removal, also known as the non-invasive tummy tuck or laser tummy tuck, is a great alternative for patients wanting to avoid surgery but are still interested in fat removal for their stubborn tummy fat. Many patients are not able to accommodate the extensive downtime post tummy tuck or do not want to undergo the general anesthesia required for tummy tuck surgery. Exilis™ non-invasive tummy tuck is done in office over the course of a few weeks with no downtime at all post treatments.
The recommended course of fat removal treatment is generally 4-6 sessions, every 1-2 weeks. In some cases maintenance treatments may be required. Each treatment takes 20-45 minutes. Pink hue to skin may persist for 15-30 minutes post treatment. Patients should increase water intake and engage in light exercise such as walking post-treatment to enhance cosmetic results. Results can be seen as quickly as after a couple of treatments and most patients show persistent results at least six months after the Exilis™ fat removal treatment.
Exilis™ fat removal has been tested in clinical studies and proven to be safe and effective. The device has been cleared by Health Canada and the FDA for use in aesthetic procedures. At SkinRhümMD all Exilis™ fat removal treatments are performed by an experienced certified laser technician under physician supervision.